..... and speaking of occult.....
Madonna apparently wants to make sure everyone knows that the Illuminati are actually the good guys.... you know, just in case you were confused by all the bad publicity they've been getting recently. No, really! It's true! Trust Madonna, she'd know, right?
*insert sarcasm warning*
Love
d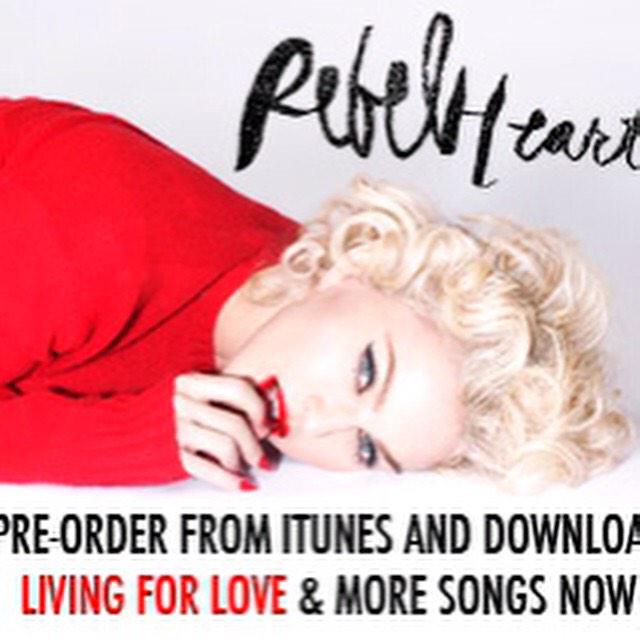 2,376 Retweets
2,442 favorite
____________________________________________________
(CNN)
-- It's an early Christmas for Madonna fans.
The singer didn't plan on releasing her new album "Rebel Heart" anytime soon, but that all changed after unfinished versions of her newest songs found their way on the Internet.
Early mixes from the Queen of Pop's 13th album had been leaked, and longtime manager
Guy Oseary
asked the public to help find those responsible.
Madonna fired back by officially releasing six new tracks Saturday morning, which are now up for sale on iTunes.
In a
tweet
, the singer wrote, "Happy early X-Mas!" and linked to where people go could to purchase her new songs.
The tracks available immediately for download include "Living for Love," an upbeat anthem, "Devil Pray," a haunting composition, "Ghosttown," an emotional mantra, "Illuminati," an electronic orchestra of melodies, as well as two other songs.
Madonna took to Instagram this past week, thanking fans for not listening to the tracks floating around online. "Thank you for not listening! Thank you for your loyalty! Thank you for waiting and if you have heard please know they are unfinished demos stolen long ago and not ready to be presented to the world," she
wrote in her post
.
Earlier this month, the singer posted a photo of her smashed iPod on Instagram after discovering the leak of her track "Rebel Heart." In her post she wrote, "This broken ipod is a symbol of my broken heart! That my music has been stolen and leaked! I have been violated as a human and an artist!"
Leaks have tormented Madonna in the past. In 2003, the singer's website was defaced and every song off her "American Life" album was leaked online.
Continue reading at
CNN HERE
___________________________________________________________
Listen to Madonna rap every illuminati buzzword in one of her six new songs
Did she just say "the Google of United States"?
Combating the
full leak of her then-unannounced album Rebel Heart
this past Wednesday, Madonna has decided to officially release the first six tracks, including the Nicki Minaj collaboration "Bitch I'm Madonna." But that is
not
the song I'm currently obsessing over in this sextet.
Even if you don't want to purchase or stream, it's worth your time to enjoy
iTunes's minute-long preview
of our new favorite dance track about conspiracy theories, "Illuminati," where Madonna slides between singing and rapping about accused illuminati luminaries like Jay Z, Beyonce, Bill Gates, Steve Jobs, and... did she just say "the Google of United States"?
I've now listened to this song, in full, about a dozen times. I can't vouch these are 100 percent the right lyrics... but it's awfully close.
It's not Jay Z and Beyoncé
It's not Nicki or Lil Wayne
It's not Oprah and Obama
The Pope and Rihanna
Queen Elizabeth or Kanye
It's not pentagrams or witchcraft
It's not triangles or stacks of cash
Black magic or Gaga, Gucci or Prada
Riding on the golden calf
The all-seeing eye is watching tonight
That's what it is tonight, truth and the light
The all-seeing eye is watching tonight
Nothing to hide, secrets inside
It's like everybody in this party, shining like illuminati
It's like everybody in this party, shining like illuminati
It's the enlightenment that started it all
The founding fathers wrote it down on the wall
And now the media's misleading us all
To right and to wrong
It's time to dance and turn this dark into something
So let the fire burn, this music is bumping
We're gonna live forever, love never dies
It starts tonight
Behind the curtain of the new world order
It's not platinum-encrypted corners
It's not Isis or the phoenix,
The pyramids of Egypt
Don't make it into something sordid
It's not Steve Jobs or Bill Gates
It's not the Google of United States
It's not Bieber or LeBron, Clinton or Bond
or anyone you love to hate
Repeat Chorus and Bridge, etc.
http://www.theverge.com/2014/12/20/7427053/madonna-rap-illuminati-buzzwords
Here's a little visual walk down memory lane: